The Effective Executive
, originally published 1967 and still available in many editions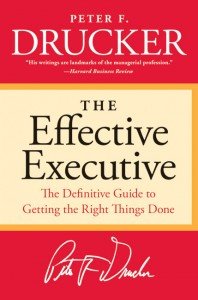 The forerunner of countless management books, The Effective Executive is the best-known and most widely read of Drucker's books. Much of its strength is in its simplicity.
Drucker's principles are clear, easy to understand, and obvious – at least once he tells us! Leaders would do well to read and reread this book as a reminder of some simple rules of effectiveness. Unfortunately, the exclusive gender language left in edition after edition and 1960s illustrations can get in the way of the book's solid message.
Managing the Nonprofit Organization
, Collins, 1992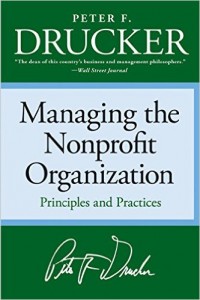 Drucker gave considerable attention to the nonprofit world. There was a time, he pointed out, when nonprofit organizations were almost universally poorly managed compared to for-profit organizations.
But over the years, that situation changed. He highlighted some exemplary models of nonprofit management practices and governance.
While this book captures many of Drucker's reflections on nonprofit leadership, it does not do justice to the contributions he made in this management field. Derived from a series of interviews and conversations involving Drucker and nonprofit leaders, the book lacks the coherence the subject merits.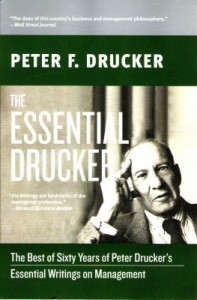 The Essential Drucker: The Best of Sixty Years of Peter Drucker's Essential Writings on Management (Collins Business Essentials)
This book draws from ten of Drucker's books. Four chapters from The Effective Executive are included.
The book picks up some of his early basic writings on the practice of management. And it includes more recent work on dealing with knowledge workers and the new management realities of the 21st century.
---
Related Resources