Lewis Center resources guide you in strengthening your personal leadership and renewing your congregation. Below are our most popular free and purchased resources of the year, plus a free PDF e-book about change.
---
Save 25% on video tool kits, video-based study curricula, and PDF e-books with coupon code TOP2020 through January 9, 2020. Shop now. 
---
Due to COVID-19, most congregations are reaching beyond their church walls through online worship and ministry. But when the pandemic is over, churches can't just re-open their doors and expect that people will come in. These "50 Ways" provide tips on reaching beyond the walls of your church with worship, community events, ministries, and service. Read, share, and download free now.
---
For online and in-person small groups, Bible studies, and Sunday School classes
Bring the best of contemporary Christian scholarship to your congregation's in-person and online small groups and classes with studies from the Lewis Center. Our video-based curriculum encourages energetic discussion and personal reflection on a number of engaging subjects. $3.99-$75 $2.99-$56.25 | Watch video previews and order now.
---
If you're a pastor ending ministry in one congregation and beginning ministry in another during the COVID-19 crisis, you already know that the transition will be like none before. To help pastors and congregations in these challenging times, we offer a new guide, The Right Start: Beginning Ministry in a New Setting — COVID-19 Supplement. Read, share, and download the free guide now.
---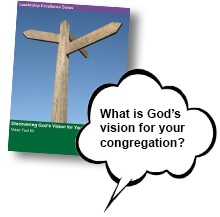 What next faithful step is God calling your church to take? Discovering God's Future for Your Church is a turn-key video tool kit that helps your congregation discern and implement God's vision for its future. $125 $93.75 | Learn more.
---
Is a new pastor or associate pastor in your church's future? These great tips guide you in saying goodbye to your current pastor in a healthy way and how to welcome your new pastor. Read, share, and download free now.
---
Video-based adult Christian study
The End Times and Revelation according to Hollywood and bestselling fiction are not the End Times as revealed in the Bible. In this 10-session study, Dr. Craig Hill makes eschatology — the study of the "Last Things" — and the book of Revelation understandable to laypeople and experts alike. $75 $56.25 | Learn more and view a sample of the Session 1 video and Participant's Guide.
---
Whether online or in person, it's vital to make a good first impression with first-time visitors. This "50 Ways" fact sheet provides strategies and tips to ensure your visitors feel truly welcome and at home in worship. Read, share, and download free now.
---
This video-based study encourages the energetic discussion and sustained reflection that is key to a life of informed discipleship. Ideal for online and in-person small groups, Bible studies, and Sunday School classes. $75 $9.99 through Jan. 9, 2020. Learn more and watch sample videos.
---
The topics in this e-book cover challenges that nearly all church leaders face and make great starting points for discussions in church meetings, small groups, and sermons. Volumes 1-4 are available on PDF and Kindle. $5.99-$15.99 $4.49-$11.99 | Learn more now.
---
How can your church help youth claim a vital faith? No question is more critical to the future of the church. Learn effective tips your congregation can use to improve ministry with teens and their families in 50 Ways to Strengthen Ministry with Youth. Read, share, and download free now.
---
Video-based adult Christian study
Take an in-depth look at the book of Psalms with this eight-session study that's ideal for your congregation's small groups, adult Bible studies, and Sunday School classes. Through study of the Word and insights gained through the arts, Dr. Denise Domkowski Hopkins invites us to approach God with the same honesty and intensity as the ancient Psalmists. $75 $56.25 | Learn more and order now. 
---
These "50 Ways" will help you maximize giving by improving your annual financial campaign. Read, share, and download free now.
---
Leading Ideas is made possible by contributions to the Lewis Center for Church Leadership from readers like you. Thank you.
---
We appreciate your support of the Lewis Center! 2020 has been a year of great change, so our Christmas gift to you is 50 Quotations to Help Lead Change in Your Church by Lovett H. Weems Jr. Download now free.
---
New cohort begins May 2021
Wesley Theological Seminary and the Lewis Center together offer the Doctor of Ministry in Church Leadership Excellence. With this track, clergy will receive the enhanced knowledge, skills, and motivation to increase congregational and denominational service, vitality, and growth. Learn more and apply today. 
---
New Doctor of Ministry 
What does it mean for a leader to stand in the gap between the way things are and what they could be? Howard Thurman's prophetic witness exemplified this form of leadership. Thurman did not demonize those responsible for systemic ills. Instead he emphasized a positive vision of the way things could be. This track of doctoral study from Wesley Theological Seminary focuses on the power of a prophetic witness like Thurman's to draw people toward a positive new future. In a world that's all about drawing attention to one's self, a prophetic witness moves us toward a new reality grounded in God's grace. Learn more and apply now.