Lovett Weems draws church leadership lessons from Jim Collins's book Good to Great and the Social Sectors, which itself draws lessons from the business world for the non-profit sector.
---
When Jim Collins's book Good to Great was published in 2001, it received immediate and widespread attention because of his previous work and the exhaustive research that went into the book, as well as theories that were both innovative and counterintuitive. It was a national best seller, and brisk sales continue even several years later. Collins was surprised to discover that thirty to fifty percent of those purchasing the book worked in the social sector, not the business world. This supplemental monograph, Good to Great and the Social Sectors, was written to address the many questions he received from social sector leaders who found Collins's insights intriguing and yet wondered if they truly applied outside a business environment.
Church leaders will appreciate Collins's understanding that the goal of serving organizations such as churches is not merely to be more "business-like," but rather to be more disciplined around the organizational mission. There is no need to impose the language of business on churches, but it is critical to recognize the dynamics that make for greatness within organizations across all sectors. The goal of the original book was to study companies that were "good" for many years based on their performance and moved then to become "great" companies, far surpassing businesses as a whole.
In Good to Great, Collins was seeking to discover how such companies made and sustained such a leap in performance. In this short book, Collins seeks to interpret some of the key original findings for the not-for-profit world, including churches. He focuses on five issues from his original book and discusses their implications for social sector leaders in the nonprofit world. Those themes are:
Defining Great — Calibrating success without business metrics
Level 5 Leadership — Getting things done within a diffuse power structure
First Who — Getting the right people on board, within social sector constraints
The Hedgehog Concept — Rethinking the economic engine without a profit motive
Turning the Flywheel — Building momentum by building the brand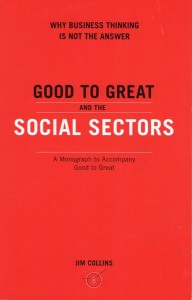 One recurring theme is that organizations that achieve their goals have found ways to change their focus from input and effort to results and outcomes. Readers will also come away with appreciation for the importance of disciplined consistency for any organization serious about accomplishing its mission. It is when consistency with mission and values is combined with consistency of effort over an extended time that missional greatness (or as the church would say, fruitfulness) is accomplished.
---
As a privately published supplement, Good to Great and the Social Sectors is not available through all traditional book sources but can be purchased online from amazon.com. To learn more about Collins's work and to read an excerpt from this book, go to www.jimcollins.com.
---
Related Resources