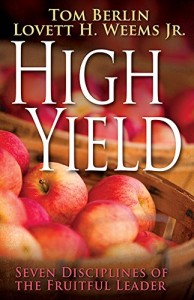 Whether by training or intuition, fruitful leaders develop a set of practices that serve them well and bear much fruit. These practices often become second nature to these leaders, and thus they seldom think to share them with other leaders who may be struggling. Tom Berlin and Lovett H. Weems, Jr., provide a vital resource to leaders through High Yield, a book that consists of a series of short chapters on leadership practices the authors have found most fruitful in their leadership and what they've seen exemplified in others. While many of these practices are common among diverse leaders, their implementation is as unique as the leaders themselves.
Endorsements
"I needed this book. High Yield drips with the wisdom that can only be learned by experience and careful listening. It is brutally honest about the difficulties of leadership in the church and gives practical advice about how to meet challenges and overcome them. It inspired me to keep going!"
— Jacob Armstrong, pastor of Providence United Methodist Church, Mt. Juliet, Tennessee
"Berlin and Weems invite us into the grace of attentive and aspirational leadership. Enter into this conversation with them, apply this wisdom, and experience 'high yield' ministry, not as a formulaic result but as faithful ministry in tune with God's creative spirit. This book is a gift to leaders and to our church."
— Hope Morgan Ward, Resident Bishop, North Carolina Conference, United Methodist Church
"Tom and Lovett clearly, kindly, and thoughtfully give practical, transferable, field-tested, and biblically-rooted principles to help church leaders and congregations become more fruitful for God in their communities and world. Church teams should study, digest, and apply this book."
— Jorge Acevedo, lead pastor of multisite Grace Church, Florida
---
Free "Implementation Exercises for High Yield"
These exercises offer readers of High Yield a way to practice and apply the lessons of the book. Download now.
---
Available at Cokesbury and Amazon