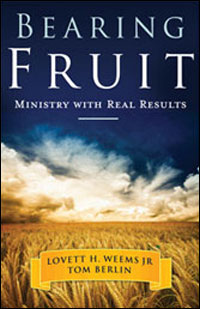 Thousands of congregations are in serious trouble. Children are not being taught the faith. Disciples are not being made. Lives are not being transformed. The poor are not being blessed. Communities are not being redeemed.
They need leaders who define ministry in terms of fruitfulness as well as faithfulness. They need pastors and lay leaders who ask about the outcomes of any given ministry or program, not just its process.
Mostly, they need a vision of ministry that focuses on changing people's lives. Absent that vision, ministry will fail.
In Bearing Fruit: Ministry with Real Results, Lovett Weems and Tom Berlin provide leaders with the tools they need to assess the fruit their ministry bears in the lives of their congregation, their community, and the world.
---
Endorsements
"Jesus uses fruitfulness to draw our attention toward the results, outcomes, impact, and effect of our ministry. With unapologetic candor, honest passion, and helpful examples, Bearing Fruit weaves practical experience with biblical mandate to help us fulfill God's mission for the church. A helpful, hopeful tool for rethinking ministry."
— Robert Schnase, Author of Five Practices of Fruitful Congregations
"This is the one book we've asked our leaders to read together before our strategic planning process this year."
— Adam Hamilton, Senior Pastor, United Methodist Church of the Resurrection
"Churches are created to be fruitful. The faith, knowledge, and actions of Christian leaders can be shaped toward fruitfulness. As guides of our spirits and mentors of our practice, Berlin and Weems lead us beyond frenzy, lethargy, excuses, and denial. Our work matters, and we dare not engage it without an eye to the quantifiable contribution that we make."
— Hope Morgan Ward, Resident Bishop, Mississippi Conference, The United Methodist Church
---
Free "Bearing Fruit Companion Study Guide"
Since Bearing Fruit: Ministry with Real Results was published in the spring of 2011, we have been pleased to learn of the many ways that individual church leaders and congregational teams are using the book as a springboard for discussion and planning. We have prepared this study guide to facilitate reflection, discussion, and application of the book's key points. While it can be used as a self-study guide by individual readers, it is intended primarily as a resource for group study. Download now.
---
Available at Cokesbury and Amazon