Nicole Reilley says posting worship services online is just the first step in developing a holistic online ministry. She enumerates four keys to developing a digital ministry that engages people and moves them toward Christ and his church.
---
Many of us think that we offer online ministry when we post our worship service on Facebook or YouTube. After all, we spend time and energy filming, editing, and posting a worship service, and it feels like we should be done. It feels like any "next steps" are for others to take as they watch worship on Sunday morning. But what if there is something we have missed, and our work has just begun?
Online worship is a great place to start, but it falls short of being a full expression of digital ministry. Why? For the same reason that offering in-person worship isn't the full expression of church and ministry. What is missing? Small groups, service to those in need, offering hospitality to newcomers, congregational care, and more cannot be left out of our digital ministry any more than they can be left out of our in-person ministry. What do we need in place to move from digital worship to digital ministry?
1. Keep it simple.
One big issue in churches, in general, is how quickly things become complicated. As you imagine your online ministry, you must keep it simple. This may mean you don't offer everything online that you do in person. Think of your online ministry as incremental, growing in what it provides as you grow and build capacity. A simple strategy invites you to imagine what a digital newcomer would need and to start with simple offerings. Most of us would agree that a welcome, a connection to next steps, and a simple check-in — all of these are doable by anyone who has a heart for people — is an excellent place to begin. Don't make things complicated. Keep them simple.
2. Engagement
Engagement is about connection and includes connecting people to God, to one another, and to church leadership. You will have had experience with engagement with your in-person ministry, and you will find some overlap with your digital expedition. Pastor Nick Blevins speaks about the importance of moving people along a pathway, starting with their awareness of your ministry to their investment in ministry. Each step on this pathway invites engagement with God, with others, and with the church. Each church benefits from understanding the steps along the way as people journey from awareness to investments. Engagement is as vital in a digital expedition as in an in-person one.
3. The basics
The most significant fundamental component in digital ministry is your church website. Your website is your digital building, so how it looks to visitors is important. Take a moment to review it and make sure it is formatted for both desktop and mobile viewing, as 43% of those who look at your website will do so on their mobile device. Your website should be geared toward visitors, and so it should be straightforward and easy to navigate. If you aren't sure how it looks to outsiders, invite a nonchurch member to look at your church's website and tell you what they see. The most significant issues with websites are missing information, outdated information, and insider-focused information. Monthly updates allow you to keep your website up to date and serve a similar function to the weekly cleaning of your worship center.
If your website is your first step, social media is your second. Most churches pick one or two social platforms to communicate and promote events. The most common use of social media by churches is as an announcement board. We tend to post "events" like upcoming worship or the Children's Ministry gathering. But social media by its nature is social, meaning connecting and relationship building. How do we move from using social media to announce events to building relationships? First, respond to (most) every comment. Responding is a simple thing, but it connects people. Second, go live. After trying to up my connection to the congregation on social media, the church I serve began a semimonthly "Coffee with the Pastors." It was a 30-minute conversation that gave that a "behind the scenes" feel to the church's staff. Here were the pastors talking about how they celebrate the holidays, what kind of tea they enjoyed, and what they were thinking about for the church. It took no prep (other than about 10 minutes to put together an outline) and connected us to over 300 people. Third, it is essential to know how your targeted demographic communicates digitally and uses that platform or app. In other words, go digitally to where the people you are trying to reach hang out in the digital world. For example, one demographic tends to use Facebook more while another demographic uses Snapchat more.
4. Next steps
We want people not only to worship but to grow, to serve, and to give. Make someone's next steps easy, obvious, and strategic.
Easy means offering a next step for connection that is doable, a comfortable step rather than a giant leap. If you have been attending online worship, your next step would NOT be an in-person small group at a member's home. There are just too many steps between an anonymous connection online and sitting in the living room of a stranger. A more appropriate next step might be to fill out a Connect Card and share your email information.
Obvious refers to something we mention weekly in online worship, an opportunity we post about on social media and our church website.
Strategic refers to moving people from the first digital experience to a profession of faith and commitment. To be strategic means we will know how we want people to progress and what stops them along the way.
One of the challenges of a digital expedition is that while the barrier to entering into a digital ministry is low, the barrier to exit is also low. Knowing this means we need to have an easy, obvious, and strategic process of moving people toward Christ and his church.
---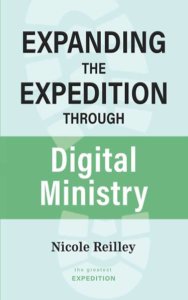 This article is adapted from Expanding the Expedition through Digital Ministry (Market Square Publishing: 2021) by Nicole Reilley. The book is also available at Cokesbury. Used by permission.
Related Resources