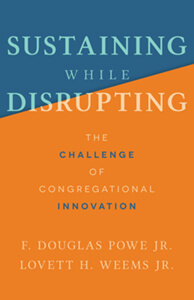 Clergy and other church leaders often feel pressed to preserve cherished traditions even as they direct people to discern the new thing God is doing. They face this tension of sustaining tradition while guiding fresh initiatives and addressing unfamiliar issues. Frederick Douglas Powe Jr. and Lovett H. Weems Jr. guide leaders in stewarding traditions while seeking innovative opportunities for faith communities.
Sustaining While Disrupting: The Challenge of Congregational Innovation offers church leaders theological insights and practical skills for two crucial tasks: to sustain and strengthen foundational elements of the churches they serve and to guide the critical innovation required to address a context vastly different from the one that current assumptions and behaviors fit. Powe and Weems argue that approaching these tasks as competing claims does not work and that new expressions of faith are needed to engender church vitality. They explain the different approaches needed for each task and specify the knowledge and practices leaders require.
While some church leaders start new ministries to reach the unserved, most clergy lead in well-established churches. They have a history, traditions, and a reputation in the community. From that base, Powe and Weems show how leaders can look forward to faithful new callings.
Endorsements
"Aptly titled, this book provides a realistic perspective on the challenges of, to use a metaphor, changing the tires on your car while you are driving on the freeway. Powe and Weems provide a handy, thoughtful, practical, and inspirational book focused on leading churches through today's disruptive environment, rather than playing it safe by continuing a steady decline into obsolescence. The wisdom they provide extends to any for-purpose organization."
— Barry Z. Posner, Accolti Endowed Professor of Leadership; chair, department of management and entrepreneurship, Leavey School of Business, Santa Clara University; and coauthor of The Leadership Challenge and Everyday People, Extraordinary Leadership
"Sustaining While Disrupting achieves the rare feat of being timely and timeless. The practical tips will be a welcomed by those who love the church but see it struggling to be fruitful today. At the same time, the insights on these pages have the potential to reverberate for generations of church leaders to come. Powe and Weems have offered us a precious gift. May we sit in the tensions of its truth and be compelled toward vibrancy at the nexus point of sustaining while disrupting!"
— Heber Brown III, executive director, The Black Church Food Security Network
"If I could choose one book to give congregational presidents and pastors this year, it would be the one you hold in your hands. Nothing is more important (and more challenging) than leading communities in the practices of sustaining and innovating, both essential to Christian faithfulness. In these readable pages, Powe and Weems provide the biblical grounding, contextual urgency, and practical wisdom for sustaining beloved communities while also disrupting them with faithful innovation."
— Ann Svennungsen, bishop, Minneapolis Area Synod, Evangelical Lutheran Church in America
"Sustaining While Disrupting is precisely the correct title for this outstanding book. Church leaders know we live in an era of convergence and divergence. This moment is not new for the church. But many books about congregations lean on demographics or business models. Maintaining while innovating is soul work in all realms of life, however, including congregational life. Refreshingly, Powe and Weems use theological reflection as the foundation for a transformative design, shaping their propositions based on the struggles of the council in Jerusalem as represented in Acts. They also offer tools and skills as gifts for the long haul, not a quick fix. Read, discern, act, and celebrate the wide-open future of the church."
— Tim Shapiro, president, Center for Congregations
"I found myself taking notes in every chapter as I read Sustaining While Disrupting. In a disorienting, pandemic-impacted time, Weems and Powe offer in this timely book clear insights, practical strategies, and abundant wisdom for church leaders on how to take faithful next steps in ministry and leadership."
— Tom Berlin, lead pastor, Floris United Methodist Church, and author of Courage: Jesus and the Call to Brave Faith
---