Does your church building express your congregation's values and invite others to explore what you do? Does it communicate the gospel? Travis Norvell explains how your church's physical presence in the neighborhood is a tool for communicating its mission and identity.
---
City-neighborhood churches have an advantage over suburban and exurban megachurches: foot traffic. When you drive past a building at 35 or 55 miles an hour, you do not have a chance to fully grasp it, but when you mosey by on an evening stroll or while taking your dog for a walk, you have an opportunity to take in a building.
Don't neglect the boring church sign or the efficacy of sandwich boards to communicate or the impact of a simple banner. These are invaluable tools to communicate with your outside voice who your church is on the inside. While in New Orleans, I once preached a sermon series on the seven deadly sins. For less than $100, a banner was made that hung along the sidewalk. The banner announced the sermon series with a giant "7" surrounded by the sins: lust, gluttony, greed, sloth, wrath, envy, and pride. To my surprise the banner became a selfie hotspot. All during Lent that year, my phone didn't stop dinging because every time someone took a picture, tagged the church, and shared it on social media, my phone alerted me. There was no way we could have bought that kind of publicity for $100!
Maximizing your outdoor space
Urban and city-neighborhood churches may not have the unlimited acreage of suburban congregations, but they can maximize their space in ways suburban congregations cannot. Judson Church is trying to maximize every square inch of its outdoor space. We have a playground for our preschool that the community uses, a Little Free Library, a peace pole designed and decorated by the youth, a rain garden with native plants, and ample bike parking. But we know we can do more.
The Rev. Michael Piazza, in his work as a church consultant, once had a church place a chalkboard beside the sidewalk with a piece of chalk tied to it and wrote on the top, for passersby to complete, this sentence, "Before I die …" At another church he advised leaders to purchase and hang gigantic rainbow flags from their building to announce, unequivocally, their support for the LGBTQIA+ community. I would also suggest you conduct an audit of what is missing. At Judson Church we need a bench to encourage contemplation and rest; we need a prayer wall to give people a place to grieve, lament, or praise; and we need to make our newsletter available and more accessible to our neighbors.
Several years ago, I heard the Rev. J. Bennett Guess, then a United Church of Christ national staff member, say that "churches must keep constant the drumbeat of invitation open to the community." It takes time for neighbors and the neighborhood to see that who you say you are matches your actions or your outside voice matches your inside voice. Having this in mind, I ask: Does our building invite people to explore what we do? Does it express our values and concerns? Does it communicate the gospel?
Inviting the parish into the building
When Calvary Church in Minneapolis updated their fellowship hall kitchen, they did so with the intent of having community members use it. They also rent it. Several startup baking and cooking companies rent the industrial kitchen. When University Baptist Church in Minneapolis updated their fellowship hall, they did so with the intent of hosting live music. Nearly every weekend, UBC hosts grassroots and folk music concerts.
One of the goals of Judson Church is to have the building in use as much as possible. Within the last year, we have had an opera company, a jazz combo, a trombone choir, and a blues band use our sanctuary as practice space. On most days, a local jazz pianist is practicing on our baby grand, or a local organ professor is practicing on our pipe organ. We have been the host site for the Martin Luther King Jr. Community Breakfast, and we have hosted community conversations led by our city of Minneapolis council member. In addition to regular Judson worship services, meetings, and classes, the church also houses the Judson Preschool and Meals on Wheels, and we are the home of four licensed counselors, a neighborhood association, offices for a philharmonic orchestra, two Girl Scout troops, a watercolor painting group, and a women's strength training class (Women with Balls). But no one is using our kitchen. We have yet to open our library for the community to browse and borrow or use as a reading room. We are exploring how to open our sanctuary for the community to enjoy in silence, light a prayer candle, or listen to a noontime piano or organ or jazz concert. Our building is an asset to our ministry.
---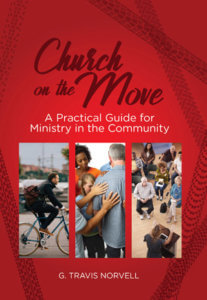 This material is adapted from Church on the Move: A Practical Guide for Ministry in the Community (Judson Press: 2022) by G. Travis Norvell. Used by permission. The book is available at Cokesbury and Amazon.
Related Resources