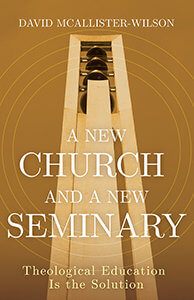 Many churches are "mule churches" — strong for a generation but unable to reproduce themselves. As a mule comes from a horse and a donkey, they were the product of demographics and cultural conditions conducive for a generation of strength but did not produce many offspring in new church starts or strong candidates for ministry. Mule churches create a generation or more of pastors, superintendents, and bishops who think they knew what made for strong church, who think their approach to ministry is the key reason for their success. And it produces churches with a nostalgia for the way things used to be. This makes it hard for churches to adapt to change.
We've been declining for a long time due to changes in secular and consumer culture, demographics radically adjusting normative family structure, and a theology based in consumer marketing rather than mission-driven vitality. Now we realize that the church is free to not just make the gospel relevant to life but to make life relevant to the gospel.
Conservative evangelical Christianity was able to focus on relevance prior to its ascendency on the national stage. Methodism requires a similar period of confessional self-definition. We are going through these confessions now in the debate about our stance toward homosexuality.
Most students and most professors go to the seminary "to fix the church," because they realize that the future of the church and its seminaries are inseparable. Seminaries provide scholars for the church, who learn how to think, who learn how to take the long view, who shape identity, who foster a "culture of calling."
A new kind of Methodist progressive evangelicalism is developing, one that lives the great commandment (love) and the great commission (produce disciples) on a global scale. Before, seminaries prepared pastors to maintain healthy churches in stable neighborhoods. Now, every neighborhood is changing, and many churches are losing their members and their confidence. They long for a recovery of their sense of mission and a new kind of leadership. A new kind of seminary is generating to foster hope, wisdom, creativity, and engagement with the great issues of our day.
Endorsements
"Written by one who obviously cares deeply about the future of the denomination and its mission of 'making disciples for Jesus Christ,' this book is hard to put down, and the critical importance of its message becomes impossible to ignore."
— Steve Lambert, former chair of the board of governors, Wesley Theological Seminary, Washington DC
"With glittering metaphors and his signature 'let's talk in my kitchen' prose, David McAllister-Wilson is a truth-teller among mainline Protestant leaders. He lays down the gauntlet: mainline churches don't struggle because of 'issues' or because young people are no longer as religious as they once were or because of any of a dozen problems we have discussed to death. We struggle because our churches don't matter. This book reimagines leadership for a church that makes an unmistakable dent in the universe-and it's a book that is long, long overdue."
— Kenda Creasy Dean, Mary D. Synnott Professor of Youth, Church, and Culture, Princeton Theological Seminary, Princeton, NJ; author, Almost Christian: What the Faith of Our Teenagers Is Telling the American Church
"McAllister-Wilson offers a fair, open, and honest assessment of what's no longer working in the United Methodist Church and a practical and wise perspective on how United Methodists might reclaim and remember our inheritance."
— Melissa Drake, field outreach minister, Iowa Annual Conference; board of directors, Uniting Methodists
---
Available at Cokesbury and Amazon