Mary Clark Moschella reviews Back Talk! by Susan Wilhauck which distills insights from feminist theories to articulate a bold strategy to change the church.
---
Backtalk! Sass! Lip! These words don't exactly evoke the good-girl approach to life in which many Christian women have been nurtured. Susan Willhauck's book, BACKTALK! Women Leaders Changing the Church, distills insights from feminist, womanist, mujerista, minjung, and post-colonial Christian theorists to articulate a bold working strategy to create change in church and society.
The term "backtalk" is borrowed from African American commentator bell hooks. Willhauck describes backtalk as a form of dialogue, or "healthy agitation" that involves questioning, problem solving, and moving forward to create positive changes. Carefully grounding her ideas in biblical reflection, Willhauck cites Miriam, who "sassed God," and the prophets who agitated for change. Indeed, backtalk suggests a new way to read the Bible — not as a simple authority but as a "talking book" that involves dialogue in the interpretive community. Bible study, according to Willhauck, can become "a truly revolutionary activity."
So what needs changing? Surveying women's leadership roles in many denominations, Willhauck concludes that the stained glass ceiling is firmly in place. She also critiques "prevailing understandings of church — who is in and who is out, and constrictions on what is a faith community and how people practice that faith." In other words, backtalk is not just something for women clergy to use to help them get the better positions — backtalk is a call for "healthy agitation" throughout the church. This strategy challenges the top-down structures of authority in our churches that disempower the laity.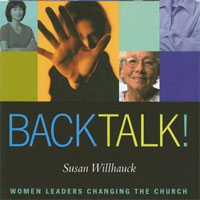 The second part of the book talks us through fourteen specific strategies for creating change. These are illustrated by stories of real women in the Korean American churches, African American churches, British churches, Episcopal churches and Methodist churches. The strategies are expressed in simple and memorable phrases — "Mentor and Befriend Colleagues," "Ignore and Rise Above the Garbage," and "Be Firm, Be Faithful."
BACKTALK paints a picture of hope. Willhauck shows that backtalk is more than mere defiance or insolence; it is rather intentional and intelligent speech that stands up to injustice and challenges complacency. The stories she tells demonstrate, finally, that change is possible. And this is good news indeed.
Related Resources
---
Back Talk! can be purchased at Amazon.