Ann Michel says that as the church increasingly moves online, so too must the church's ministry of generosity. But this future requires the capacity to receive digital gifts and skill in soliciting gifts electronically from people beyond the reach of Sunday services.
---
Over the past two decades, as electronic transactions became the norm in our daily lives, most church offerings continued to come in the form of cash or checks. Last year, when coronavirus curtailed in-person worship, churches without electronic giving methods scrambled to put them in place quickly. This rapid embrace of electronic giving is one of many ways the COVID-19 crisis is propelling churches forward into an increasingly digital future.
Yet most church leaders continue to think of electronic giving as a way to make giving more convenient for those who would otherwise give on Sunday mornings and a way for churches to receive income more predictably. These are important advantages of electronic giving, to be sure. But we limit the potential of electronic giving when we regard it merely as a technical solution to technical problems. The true promise of electronic giving is in response to a massive adaptive challenge — how to nurture generosity in our post-attractional era among new generations that are less likely to embrace time-honored approaches to supporting the church.
Nurturing generosity in a post-attractional world
In the dominant paradigm of church giving, we wait until someone comes through the door of our church to invite them to give. And we only ask them to give when they attend on Sunday morning. But in an era when fewer and fewer people find their way into churches and even our regulars attend only a couple of Sundays a month, churches that don't expand their generosity efforts are fishing in a smaller and smaller pond.
Electronic giving has the potential to reach younger generations, occasional attenders, and even people who don't yet attend church by leapfrogging beyond our traditional reliance on the pledge and the offering plate, which are methods of giving with limited appeal to those skeptical of institutional allegiances.
Extending the ministry of generosity beyond Sunday services
As the church of the future increasingly moves online, so too must the church's ministry of generosity. But this future requires not only the capacity to receive digital gifts but also skill in soliciting gifts electronically from people beyond the reach of Sunday services. In the internet age, virtually all other nonprofits cultivate their donor base through electronic communication and electronic giving. And forward-thinking churches are taking a page from their playbook.
When inviting people to support your mission, imagine the potential if, instead of just preaching to the choir, you sent an attractive email with an online giving link to everyone who's part of your church's wider circle of influence. Those who attend less frequently. Shut-ins and retirees living in different parts of the county. Past visitors and occasional contributors. Friends, neighbors, and community partners. All these people likely care about what your church does, even if they aren't always there on Sunday morning.
Imagine if you told the story of your congregation's food pantry, or Vacation Bible School, or upcoming mission trip through social media posts. And then you invited others to give in support of these ministries. Imagine then if some of your members or even those in your wider circle of influence were inspired by this work and shared your post. And then imagine that the people reached through social media not only made gifts but were also inspired to get involved.
Giving as a new entry point
We often think of giving as the end product of spiritual maturity. But inviting people — even those beyond the walls of your church — to experience the joy of generosity can be a starting point for understanding how God is at work in the world and the spiritual significance of giving. Online giving has the potential to become a new entry point into the life of the church and a first step toward discipleship.
I believe this is how the church of the 21st century will fund ministry, attract new people to its mission, and help them participate in the generosity of God. But only if we are bold and creative in embracing the potential of online giving and online connections. Developing aptitude in receiving and soliciting online gifts is increasingly vital to healthy congregational stewardship.
---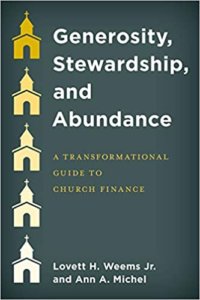 Ann Michel is coauthor with Lovett H. Weems Jr. of a new book Generosity, Stewardship, and Abundance: A Transformational Guide to Church Finances (Rowman and Littlefield, 2021) available in April 2021. It can be preordered at Amazon.
Related Resources