To celebrate the Lewis Center's anniversary, we are highlighting Leading Articles — some of our most popular posts of the past 20 years. We are pleased to share again this article by Ed Stetzer and Thom S. Rainer, originally published on September 2, 2015.
When studying the subject of transformational leadership, we should take a look at our own leader, Christ Jesus. He is the one who can best speak to the issue of leadership. Here are ten traits of Jesus, the transformational leader. As you read over the descriptions, take time to assess your own life and activity as a leader.
Jesus invested in people. Jesus invested in people because he believed in people. Paul described the trust God places in us as a sacred trust. He said, "We have been approved by God to be entrusted with the gospel" (1 Thess. 2:4). The word entrusted communicates the truth that God believed in the people to whom God gave the gospel. Jesus demonstrated incredible confidence in the potential of people to let him use them for a higher purpose.
Jesus saw long and far. Jesus' leadership was evident in John 17:20 when he said, "I pray not only for these, but also for those who believe in me through their message." Jesus was living beyond the moment. With the pressures of local church leadership, it is possible for us to shorten our sight. We must never reduce God's desire to inconsequential measurements. Transformational church leaders are looking further than ever before. Instead of a two-year church calendar, we need to plan for the next century of impact. Jesus prayed for thousands of years into the future.
Jesus sent people away from him on mission. Luke 9:1-2 and 10:1-2 give the picture of Jesus sending the believers away to do ministry. He sent them to touch the hurting and work for the harvest. The environment around Jesus had disciples constantly coming and going.
Jesus grieved for communities. "As he approached and saw the city, he wept over it, saying, 'If you knew this day what would bring peace — but now it is hidden from your eyes" (Luke 19:41-42). Jesus was heart-broken over the rebellious nature of Jerusalem's inhabitants. Jesus wept over a community and calls us to love ours. "How often I wanted to gather your children together, as a hen gathers her chicks under her wings, yet you were not willing!" (Matt. 23:37)
Jesus led a balanced life. By the use of the word balance, we mean his perfect investment in multiple environments. Jesus knew the value of time away from the crowds. On several occasions he retreated from crowds to spend time in prayer. The Bible reports, "After dismissing the crowds, he got into the boat and went to the region of Magadan" (Matt. 15:39). He pulled away from the crowds to rest and pray.
Jesus embraced other cultures. Jesus embodied a cross-cultural gospel focus. He was not afraid or offended by the Samaritans. He went out of his way to talk with them and refused to give up when they rejected him. The heart of Jesus is for people, all people. It is illustrated by the life-changing conversation Jesus had with a woman at a well (John 4). The Holy Spirit birthed the church in a multicultural, multilingual environment. Acts 1:8 reminds us that we are commissioned to reach every culture and people group on earth.
Jesus gave up his will. Jesus surrendered his will to the Father. A transformational leader is in tune with the heart of God. He is not confused about who belongs to whom. Jesus prayed shortly before his death: "Abba, Father! All things are possible for you. Take this cup away from me. Nevertheless, not what I will, but what you will" (Mark 14:36). We are not able to equal his work. But as transformational leaders, we must resolve to do whatever God requires. Jesus gave up his human will for God's higher purpose. So must we.
Jesus surrounded himself with lost people. "All the tax collectors and sinners were approaching to listen to him" (Luke 15:1). Jesus was attractive to lost people. He was kind to the adulterous woman (John 8:1-11) and Zacchaeus the tax collector (Luke 19:1-10). By offering grace and truth, the lost were drawn to be changed by him. As much as we are sincerely driven to make our churches attractive, we must see the greater example in the missionary Jesus. The most beautiful element of our churches is people enjoying a transforming relationship with Jesus Christ.
Jesus' harvest vision was leveraged by prayer. Prayer is continually connected to the mission of God in the life of Jesus. We have no ability to transform anything without God's power. Jesus explained the power needed for the harvest was found in the resource of praying. "Then he said to his disciples, 'the harvest is abundant, but the workers are few. Therefore, pray to the Lord of the harvest to send out workers into his harvest.'" (Matt. 9:37-38). The source for harvest workers is not in recruitment strategies, but in prayer. Prayer recognizes God as eternally resourceful.
Jesus felt the needs of people. Why did Jesus weep at the death of Lazarus (John 11:35)? Not for Mary, Martha, or the crowd to see. Simply because he grieved the loss of his friend. Jesus was a man who deeply loved others. He felt their pain. Jesus felt compassion because the people were "weary and worn out, like sheep without a shepherd" (Matt. 9:35-37). Jesus cared for people who were hungry and afraid. He cared for the physically sick and the spiritually oppressed. Jesus felt the needs of people.
Jesus came to serve the hurting (Luke 4:18) and save the lost (Luke 19:10). In him we witness the greatest transformation leadership skills the world has ever known. But he did not provide the model because of his infatuation with the leadership image or culture. Jesus led out of his character and heart for the world. As leaders we are to be reflections of our Lord.
---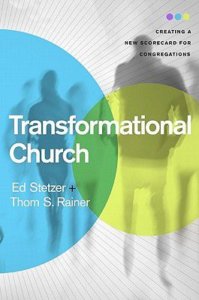 This article is excerpted from the book Transformational Church (B&H Publishing, 2010) by Ed Stetzer and Thom S. Rainer and is used by permission of the publisher. The book is also available at Amazon.
Related Resources: